We started the first day of the Nybble Camp with Jero Ciapparelli talking about how to adjust our mindset to overcome obstacles, through tools to know ourselves and manage our emotions.
We continue with Flor Pavese talking about agility, unlearning, and learning, releasing concepts and ideas to incorporate new work methodologies and innovation. We worked on the values of agility and learned that being agile requires being focused, in permanent beta and tolerating uncertainty.
We reviewed data security concepts from the hand of a Nybbler, Gaby Marañon, and in the afternoon we divided the whole group into teams to work on team improvements, a very useful and integrative activity led by Juan Russo from the Technology and Innovation team.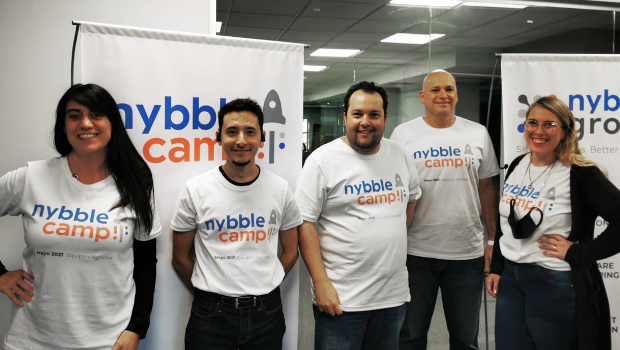 On the second day, we started with a talk with Claudia Castellanos, we talked about collaborative skills that achieve impeccable coordination based on the value of asking and the responsibility of responding.
Our Director of Technology and Innovation, Leo Rodriguez, shared a talk about agile development with a DevOps culture, focused on the quality of delivery and the importance of constant training.
During the afternoon we once again worked in cross-area teams, solving a code-challenge with a case like our day to day and testing the concepts incorporated in these two days. Juan Russo coordinated and led this interesting activity. Finally came the closing of the hand of our CEO, Gus Castenetto, giving rise to raffles and an end to pure humor by the hand of comedian Leo Camiser.
Two days of integration, teamwork, learning and fun, guided by Sabrina Menchaca, our amazing host. This is Nybble.